Traditional Hardwood Over Ecowarm
TRADITIONAL HARDWOOD INSTALLED DIRECTLY OVER ECOWARM
A conventional nailed and hardwood type system may be used directly over EcoWarm, with nailing long enough to penetrate the subfloor, and with the utilization of recommended controls. See also sections on general considerations with the use of traditional wood flooring.
ECOWARM shall be installed over a wooden subfloor, complying with "General EcoWarm Installation Requirements For All Flooring Over Wood Subfloor". In addition, the following specific cautions and instructions shall be followed:
Care shall be taken to avoid nailing tubing.
Hardwood floor joints shall not be installed directly at EcoWarm joint.
Hardwood floor nails shall be long enough to penetrate both hardwood and subfloor.
Hardwood floors installed directly over EcoWarm shall employ controls with a reset curve, that gradually adjust water temperature going toEcoWarm; the floor will expand and contract gradually with temperature changes. This will reduce the likelyhood of warping, gapping or shrinkage problems. The use of a floor temperature limiting sensor is recommended.
It is extremely important that the designer know which way it is desired that the strip flooring be aligned prior to the design of EcoWarm system, since the direction of EcoWarm should run perpendicular to the direction of the strip flooring.
Install strip wood flooring with mallet driven nails and nails penetrating EcoWarm.
Structure humidity shall be kept within the range specified by the flooring manufacturer.
The wood flooring shall be installed at the relative humidity recommended by the manufacturer for the climate involved.
Use narrower 2"-3 1/2" strips of wood flooring over radiant floors.
The lessons of local practice and climate shall be referenced.
Make sure the heating system has been running and the space has been maintained at least 65F° long enough that temperature and humidity have stabilized to predicted future levels.
The flooring product shall be allowed to acclimatize before installation.
Use woods that are known to be dimensionally stable.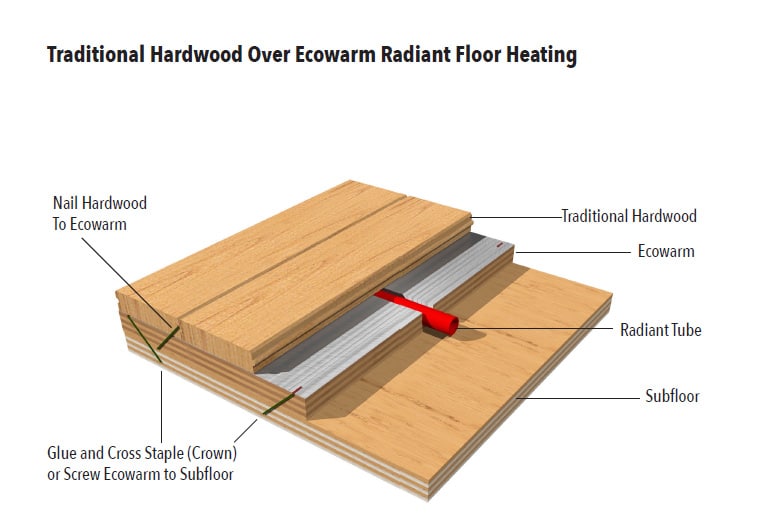 Get a free quote!
Factory direct to your jobsite!