This questionnaire should be completed in consultation with your  Thermalboard designer. Please review the information on this page then fill out the questionnaire at the bottom of the page.  The design will be completed with 1-3 weeks from the date that all information below is received.
Questions?  Feel free to give us a call at 866-341-1854. Generally, layout design is a collaborative process between you and the designer with whom you will have access.
Plan Format:
We much prefer receiving your plans in a CAD format if possible. This speeds the process and lowers the costs.
Zoning Preferences:
Zoning is usually done according to factors such as similar exposure, similar use, and temperature requirements. Many houses are zoned with 3 to six zones. Zoning and manifold locations should be discussed with your layout designer of coordinator.
Do you have a preference for zones?
Manifold location preferences:
Manifolds are most often located behind a removable access panel in an inconspicuous location such as a closet convenient to the area served by the manifold, they should be located on the level they serve and have air vents for purging.
Do you have a preference for manifold locations?
The detail on typical manifold requirements:
Click image to enlarge

Flooring Goods:


Prior to your FOB shipment, you will need to sign and return the quote we have sent to you accepting our terms for purchasing on the Oregon website. You can make your payment by using a password and a payment link we will send you on our website. There you can then complete the purchase using a Visa or Mastercard, or you can just call us to have your Visa or Mastercard card processed on the website. Questions? Call us at 866-341-1854
Hardwood Direction: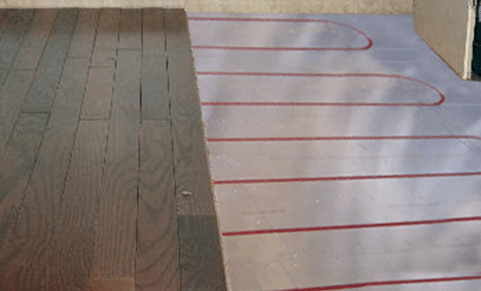 If you are using hardwood of any kind, we will need to orient the tubing perpendicular to the direction of the hardwood to avoid having hardwood seams align with the tubing. This can be noted on your plans or described below.
Pantry:
Our design practice is to avoid putting radiant in pantries. Canned foods generally do not want to be heated. If you want to heat in the pantry, please consult your designer.
Get a free quote!
Factory direct to your jobsite!
Design Layout Questionaire:
Please fill out this Questionaire to start your design layout.