INSTALLING ECOWARM OVER CONCRETE
INSTALLING ECOWARM OVER CONCRETE
Successful installations of EcoWarm over concrete require special care due to the difficulties of sealing concrete, moisture issues and attaching Ecowarm to concrete. All concrete slabs give off supplementary moisture whether above, on, or below grade. This can cause problems for any board product installed over it, including Ecowarm. Ecowarm may be installed over concrete using the following 3 methods only when the installing parties are willing to assume full responsibility for the installation issues regarding moisture and attachment of Ecowarm to concrete.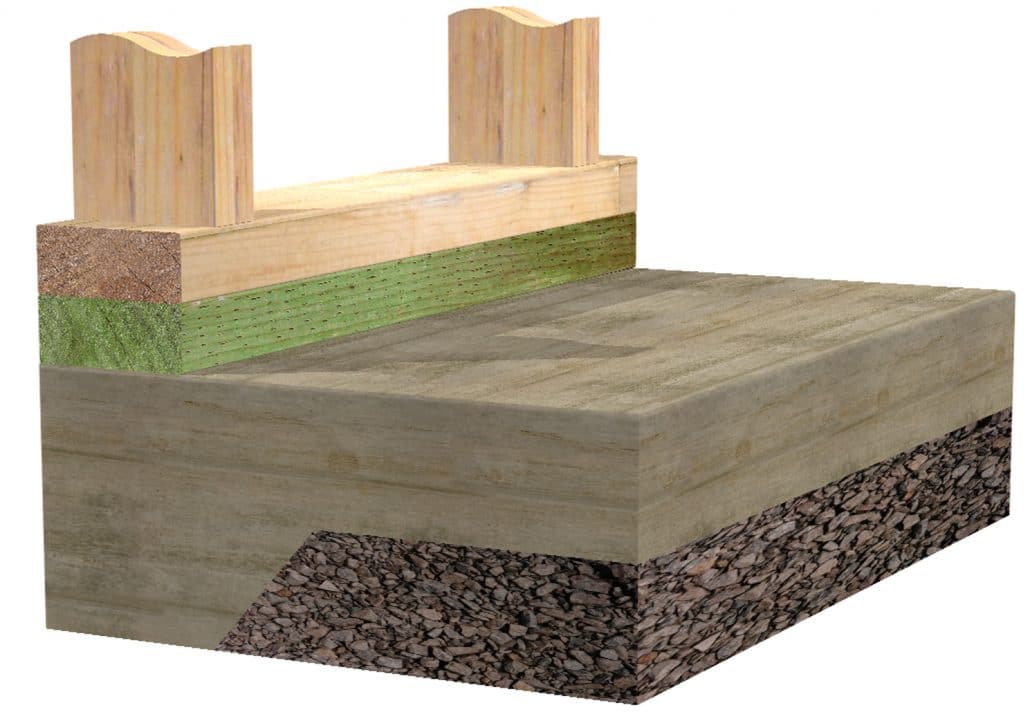 When installing Ecowarm over concrete, moisture considerations must be carefully addressed. Remember that while a slab may appear to be, or actually be, dry during one time of year, this may change as environmental conditions change. Below is a procedure for testing the moisture of slabs, including those between floors as in commercial construction. It is the contractor's as well as the installer's responsibility to test all concrete substrates, both new and old, for moisture content to determine whether they are sufficiently dry to install EcoWarm. Moisture in the concrete should be tested according to ASTM F 1869 (Calcium Chloride Moisture Test using the Quantitative Method). With a calcium chloride test, the maximum acceptable reading is 3 lbs./ 4 hours/ 1,000 Sq. ft. New concrete slabs and basements must be cured for a minimum of 60 days prior to installation. Determine that the existing or new slab is sufficiently dry, and do any sealing of the slab before you proceed with any Ecowarm installation.
It is strongly recommended that all slabs below grade and slabs on grade be sealed against moisture penetration before installing EcoWarm by means of vapor barriers or product such as Hydroment Ultraseal that is a sealant and an adhesive. It is also important that all installations of Ecowarm over concrete slabs below grade and slabs on grade be insulated against downward heat loss either as shown in the detail below or under the slab or downward at the perimeter according to the Radiant Panel Association recommendations. The increasing use in seismic areas of engineered "Seismic Slabs" means that fewer radiant floor heating systems will be installed with tubing in the slab and there will be more need for the 3 details that follow.
Recommendations for floor coverings installed over Ecowarm that is installed on concrete: For details of installation of flooring materials above the Ecowarm layer, refer to the details on the previous pages for additional information and requirements, but refer to the following page for details of how to install EcoWarm itself over concrete. So for example tile would be installed over EcoWarm with a backerboard layer, crack isolation membrane, mortar, etc. as shown on previous pages, but EcoWarm itself should be installed as according to one of the 3 methods shown below.
Installer's Note: When installing traditional strip wood flooring directly to Ecowarm installed over concrete you must use one of the methods utilizing 5/8" treated T&G plywood under the Ecowarm to provide adequate nailing.
Get a free quote!
Factory direct to your jobsite!