APPLICATION OF ECOWARM TO WALLS OR CEILING
Application Of Ecowarm To Walls Or Ceiling
ECOWARM may be installed on walls or ceilings as extra heat output areas when the floors cannot provide all the necessary heat. Radiant walls and ceilings may also be used to provide all the heat of a room in certain circumstances when properly designed. The heat output of radiant walls and ceilings is different from floors, due to differences in the strength of the convective component of the heat which is stronger in radiant floor heating than in walls or ceilings. However, since walls and ceilings are typically covered only with the relatively low r-value of 1/2" of sheet rock, and acceptable surface temperatures are higher, the heat output of these systems can be quite substantial. It is very important not to overheat sheetrock or discoloration or damage may occur. For design purposes, use chart C-1 but correct the output in BTU's downward 5% for walls and 10% for ceilings. This is because the convective component of the heat output is lower in wall and ceiling radiant heating systems.
ECOWARM wall and ceiling systems shall be installed as follows: EcoWarm shall be installed square to framing, attached to plywood fastened to framing (preferred method), or directly to studs, rafters and/or blocking with as many joints as possible screwed securely to the framing. EcoWarm shall be secured to plywood or framing on both sides of the grooves on every board. Layout of all pieces shall be started by securing a corner to allow for proper alignment. 6" lengths of tubing shall be temporarily placed in the grooves lapping 3" into each board to help align the grooves of the boards during installation. Once all boards are installed, all grooves shall be cleaned out with a vacuum just prior to tubing installation. Tubing shall be snapped into the groove and routed to manifold per the plan. A 1" minimum tubing clearance from tubing shall be maintained for all nailing. Add steel plate protectors over tubing where tubing crosses studs. Water temperatures shall not exceed 120F° supply water temperatures when EcoWarm is installed under plaster or sheetrock.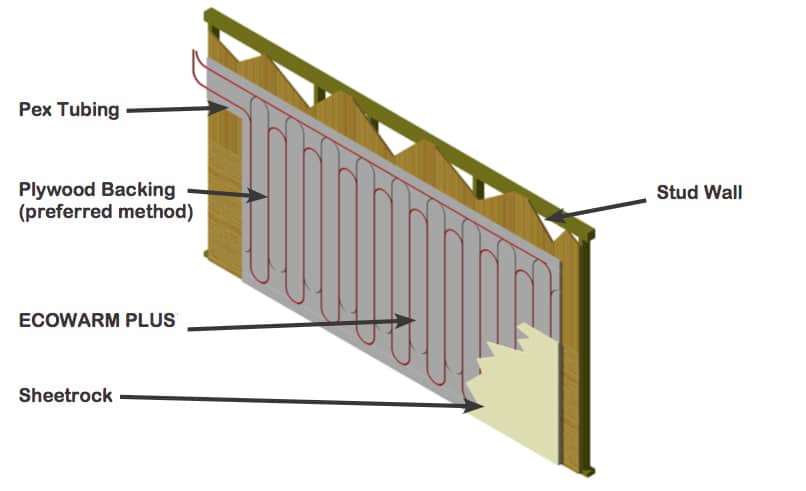 Get a free quote!
Factory direct to your jobsite!